Visit to Estonia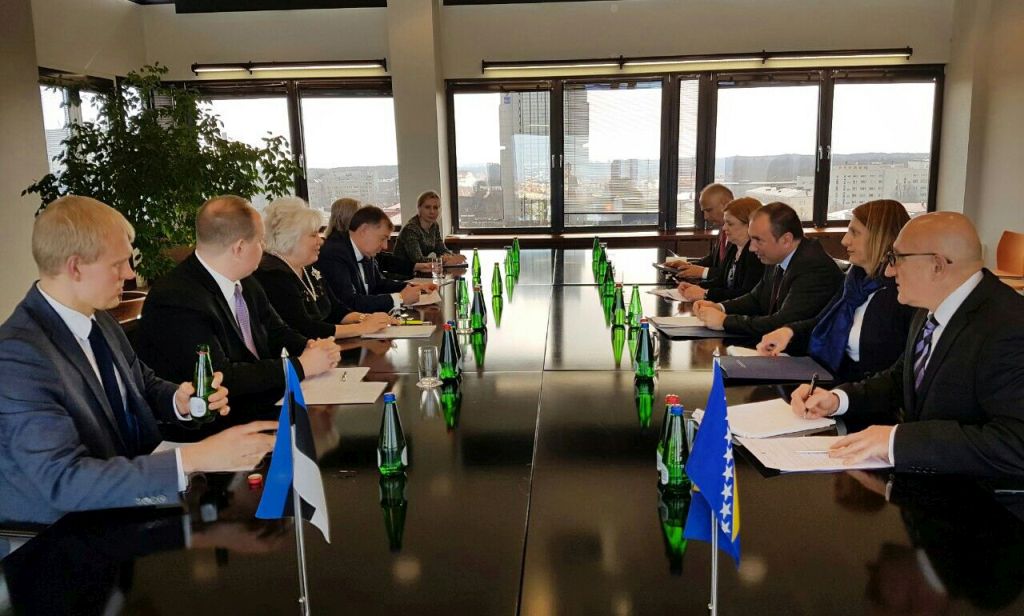 Minister of Foreign Affairs Igor Crnadak made an official visit to Estonia on April 6,  2016 where he met with Minister of Foreign Affairs of the Republic of Estonia Marina Kaljurand, chairman of the Committee for National Defence of the Parliament of the Republic of Estonia Marko Mihkelson and Deputy Chairman of the Foreign Affairs Committee of the Parliament of the Republic of Estonia Ennom Eesmaa.
Minister Crnadak informed the hosts about the political situation in BiH and the latest activities of BiH in the process of European integration. Stressing the fact that Estonia was the first EU member state to ratify the Stabilization and Association Agreement between BiH and the EU, Minister Crnadak expressed his appreciation for the support to the European integration of Bosnia and Herzegovina, and expressed his expectation of the support to the request of BiH to join the EU and obtaining the candidate status for membership in the EU.
During the talks, the good political relations between BiH and Estonia were welcomed and readiness for further improvement of overall bilateral relations in all areas of interest to the two countries was expressed. Crnadak particularly stressed the need to improve cooperation between BiH and Estonia in the field of economy and investments, as well as the need to develop cooperation in the field of defense, science, culture, education, arts and sports.
Both sides agreed that intensive exchange of visits at high and highest level, and in particular the exchange of visits and meetings of businessmen would contribute to further  development of relations between the two countries.
Further discussions on the possibilities for the expansion of bilateral cooperation between the two countries particularly highlighted the possibility of cooperation in the fields of digitization and information technology, considering that Estonia in these areas is the world's leading country. With regards to this possibilities for transferring knowledge and experience to Bosnia and Herzegovina were discussed.
Minister Crnadak and Minister Kaljurand welcomed bilateral consultations between the two foreign ministries held so far. The topics of discussion were also the exchange of support of BiH and Estonia for positions in international bodies and organizations. The ministers exchanged the information on the activities of the two countries at the regional level and view on current issues that burden the international community.
Ministr Crnadak thanked for the contributions that Estonia gave from 1996 to 2009 to the peacekeeping operations in Bosnia and Herzegovina, through the participation of its troops in IFOR, SFOR, EUFOR and EUPM units.
In the framework of the visit to Estonia, Minister Crnadak visited e-Estonia showroom.
.