Visit to Finland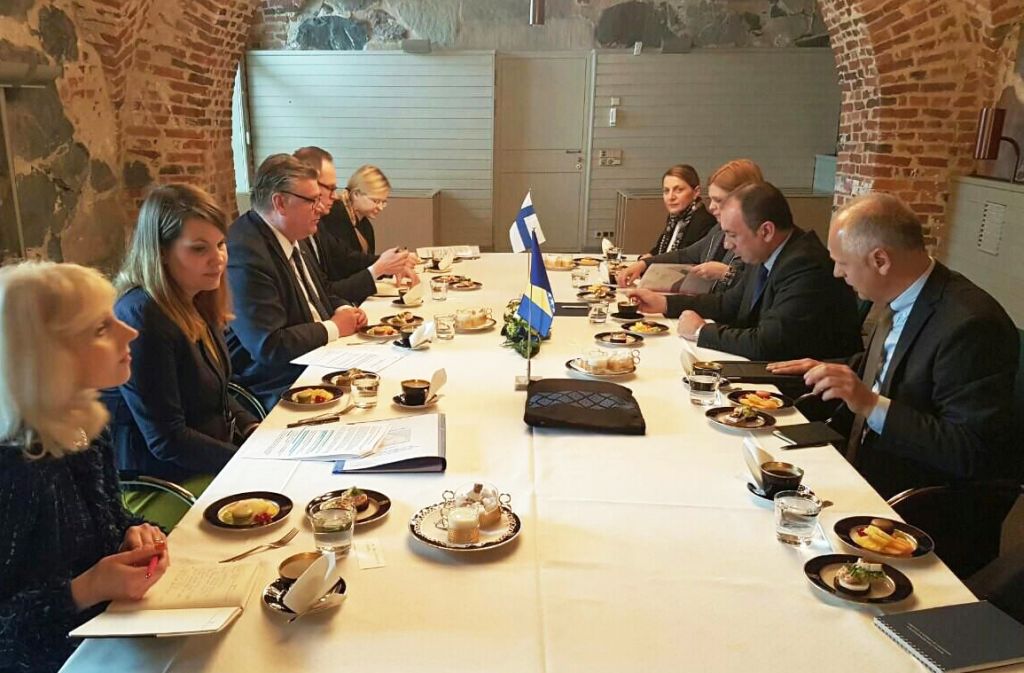 Minister of Foreign Affairs of Bosnia and Herzegovina Igor Crnadak visited Finland on 7 April 2016, where he met with First Deputy of the Prime Minister and Minister of Foreign Affairs Tim Soini and a delegation of the Grand Committee (Grand Committee) of the Parliament of Finland, headed by the chairwoman Anne Mari Virolainen.
The topics of the talks between Minister Crnadak with Finnish hosts were EU Integration, regional cooperation and bilateral relations with a focus on economic cooperation.
Minister Crnadak informed of the submitting application for BiH's membership in the EU on the 15 February 2016, and expressed hope that BiH will in this respect receive the support of the Republic of Finland, in order to have, the Foreign Affairs Council (FAC) consider the application of Bosnia and Herzegovina and task the European Commission to draw up an opinion.
He stressed that a renewed EU approach towards Bosnia and Herzegovina contributed to focus attention on socio-economic reforms, of which will benefit the entire population.
He pointed out the commitment of BiH to continue implementing measures of the Reform Agenda, the establishment of an effective coordination mechanism at all levels of government and the continuation of negotiations on the adaptation of the Stabilisation and Association Agreement.
The Minister also informed about the progress in cooperation with neighbouring countries and on the activities of the regional initiatives. He stressed that the major contribution to regional cooperation process gave Berlin process (Connectivity Agenda) and stressed the importance of its extensions for acceleration of reforms and economic development
During the meeting of the foreign ministers of Bosnia and Herzegovina and Finland Mr. Crnadak and Mr. Soini it was assessed that two countries have good bilateral relations, and that in the coming period the focused should be on the development of economic relations. Minister Crnadak invited Finnish investors to familiarize themselves with the possibilities to invest in BiH at Sarajevo Business Forum that is going to be held on 4 and 5 May 2016.
Finnish Foreign Minister Timo Soini said that Finland will continue to support actively the European integration of Bosnia and Herzegovina, and that it is the most important that in order to  continue the reforms and progress of BiH on its path towards the European Union,  the representatives of Bosnia and Herzegovina run by the agreed principles and continue to work  towards meeting the key requirements. He added that Finland will continue to support the enlargement of the European Union.
Tokom susreta sa predsjedavajućom i članovima Velikog komiteta Parlamenta Finske dogovoreno je da će se u narednom periodu raditi na jačanju parlamentarne saradnje posebno u kontekstu evropskih integracija BiH. Ministar Crnadak je istaknuo da je saradnja parlamenata od velike važnosti s obzirom na ulogu parlamenata zemalja članica EU u procesu proširenja EU.
Na sastancima u Helsinkiju razgovarano je i o borbi protiv terorizma i nasilnog ekstremizma, izbjegličkoj krizi i drugim aktuelnim temama.
During the meeting with President and members of the Grand Committee of the Parliament of Finland, it was agreed to strengthen parliamentary cooperation in particular in the context of European integration. Crnadak Minister pointed out that the cooperation of parliaments is of great importance with regard to the role of parliaments of EU member states in the EU enlargement process.
The fight against terrorism and violent extremism, refugee crisis and other current topics  were  also discussed and at the meetings in Helsinki