Welcome luncheon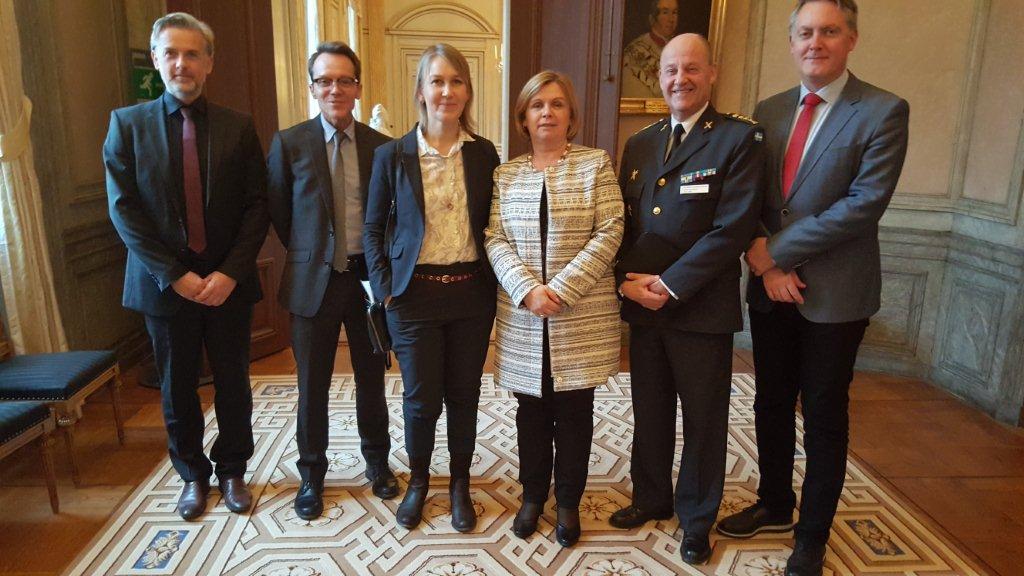 At a luncheon of welcoming ambassador Vesna Ćužić, the host was the State Secretary Ulrika  Modéer. The lunch was organized in the Ministry of Foreign Affairs of the Kingdom of Sweden on November 19, 2015.
The guests at lunch were people who play an important role in the bilateral cooperation of Bosnia and Herzegovina, and a representative of the bh diaspora.
On behalf of the Ministry of Foreign Affairs  there were Mikaela Kumlin, Deputy Head of the Department for the EU, Lena Kjellstrom, Deputy Head of the Department of Protocol and Karin Ahnfelt, desk officer for Bosnia and Herzegovina.
SIDA was represented by Mikael Elofsson, head of the Western Balkans department, Robert Hardhi, on behalf of Human rights defenders, Thomas Klementsson, on behalf of the Department of Protocol of the Swedish Armed Forces and Armin Hadzic  president of APU network, association of BiH citizens.
Ambassador Ćužić emphasized good bilateral relations and thanked for the concrete assistance that Sweden is continuously providing to Bosnia and Herzegovina through the programs funded by SIDA and  for the Swedish support to the EU integration of Bosnia and Herzegovina.
The Ambassador stressed the orientation of BiH authorities to implement measures from the Reform Agenda and the establishment of coordination mechanisms at all levels with the aim of submitting a request for a credible membership, stating that the latest report by the European Commission on Bosnia and Herzegovina shows positive progress in most areas assessed.
The topic of discussion was also the refugee crisis and increased levels of security measures after the attack in Paris, and the attack on members of the Armed Forces of BiH in Sarajevo.